Marketers seeking to participate in the online video revolution while maintaining brand control and integrity now have their chance with The NewsMarket's new BrandTV embeddable video player. BrandTV provides companies and organizations with unlimited streaming capabilities and other features, transforming their web sites into robust media channels.
Read the full release here
.
BrandTV is the logical next step for companies and marketers that in recent years have become huge generators of video content for everything from product launches to consumer education, issue or crisis management. Volvo Cars is the first of several well-known marketers to take advantage of BrandTV to centralize all its video content and extend its delivery virally to car buyers and other interested viewers around the world.
Volvo is offering clips of its car models in action
, along with stories highlighting company news, upcoming events, even the results of the latest test crash results.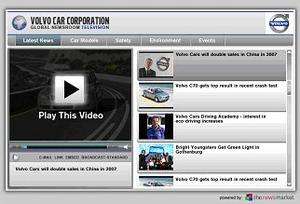 "BrandTV adds an important dimension to our clients' media strategies by allowing them to also direct their audiences to branded video content that can easily be shared," said The NewsMarket's CEO Shoba Purushothaman. "Our new product lets marketers - it's the ultimate tool for maximizing video messaging to all parties."